PMA Recognizes SmartWash Solutions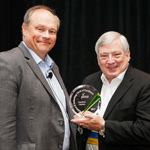 The first-ever winner of Produce Marketing Association's (PMA) Science & Technology Circle of Excellence Award epitomizes the goal of the new award program. Not only do the 2017 awardee's products and services harness science and technology to help address major industry challenges, but the company also serves the industry selflessly as a volunteer leader.
PMA Chief Science Officer Dr. Bob Whitaker presented the inaugural award May 5 to SmartWash Solutions President Jim Brennan at PMA's Tech Knowledge conference in Monterey, California, USA.
"It was a tough competition, but ultimately our panel selected SmartWash Solutions because they have developed a solution to help packers and processors of fresh fruits and vegetables to monitor and enhance the quality of wash water in real time," said Whitaker. "Their products and services align perfectly with this year's Tech Knowledge theme, which is harnessing innovations to address industry challenges and work smarter.
"We have all seen the tragic results of foodborne illness outbreaks, and we know what a challenge it is to be able to properly manage water quality – this company is working to address that challenge," said Whitaker. "Going beyond that, Jim and his team are also making important volunteer contributions to help our industry to address the critical food safety issue of water quality."
"The SmartWash team is honored to be the inaugural recipient of PMA's Science & Technology Circle of Excellence Award," Brennan said. "The SmartWash story started in 2006 after the spinach outbreak as a small skunk works in a corner of a shuttered food processing facility with the sole focus to eliminate produce outbreaks. SmartWash Solutions was born from this effort. We endeavor to earn the trust that our customer partners place in our team to help them wash produce safely and efficiently every day. PMA's recognition will put a little more bounce in the step of all the SmartWash team members."
Brennan noted that the company offers conventional and organic versions of its proprietary chemicals; the state-of-the-art equipment package to dispense, control and monitor wash systems; as well as the data analytics to track real-time and historic wash-line performance. He said SmartWash is used in more than 200 produce wash lines, at more than 35 facilities in seven countries worldwide.
PMA unveiled the new annual Science & Technology Circle of Excellence Award earlier this year. The program recognizes individuals or companies who are solving business challenges by applying advances in science and/or technology to create better products, processes or customer value" – particularly that achieve labor efficiencies or lead to the ability to work smarter. A panel judged the 16 entries received from across a broad spectrum of technologies that are helping the industry to work smarter. The panel included PMA staff science and technology subject matter experts and industry executives.
Awardee's technology saves labor and protects public health
SmartWash Solutions offers a comprehensive food safety system that focuses on the science, technology and engineering that is necessary to prevent waterborne cross contamination. While enhancing the food safety program of fresh produce packers and fresh-cut processors is the priority, SmartWash products have also been proven to increase process control, reduce operational costs and provide a safer work environment. With the best data management system available in the industry, SmartWash is able to stay a step ahead of issues while also helping to provide valuable information to the food safety and operations teams.
SmartWash Solutions is headquartered in Salinas, Calif., and is a subsidiary of Taylor Farms.
Brennan, a chemical engineer with an MBA, also serves on the Center for Produce Safety's Technical Committee. "He has volunteered his time and provided considerable company resources to the produce industry, to share the work they are doing and the vast amounts of data they've collected on wash water quality measurements," said Whitaker. "They have even offered their pilot plant to scientists, to help deepen scientific knowledge about wash water control."
"When the 2006 spinach outbreak happened, everyone was impacted. Taylor Farms asked what we needed to do to prevent this from happening again," said Brennan. "Our DNA isn't as a chemical company, it is as produce people."
SmartWash Solutions received complimentary full registration to this year's Tech Knowledge and Fresh Summit, and is being recognized via PMA public relations, social media channels and FRESH magazine, and on PMA.com.
For more information about the Science & Technology Circle of Excellence Award, visit www.pma.com/topics/technology.