SmartWash Solutions™ Launches Brand New Website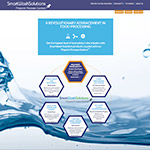 The complete rebuild of smartwashsolutions.com stemmed from the company's goal to communicate their story and services in a more accessible, easy to understand format. They achieved this by trimming 17 pages down to eight concise pages that streamline their information.
"The old website was just trying to do too much," said Steven Swarts, Director of Business Development at SmartWash Solutions. "It was easy to get lost in the abundant jargon and scientific language. We want to really emphasize the value that our products bring to the industry which is why we decided it was best to move forward with a rebuild."
The new SmartWash Solutions website explains the science, engineering and technology behind their revolutionary food wash system, as well as their process control and food safety solutions. Along with their flagship product, the SmartWash® produce wash enhancer, other featured products and services on the website include: Process ProData Live™ for real time data tracking and mining to help increase plant efficiency; the (ASAP)™ process control equipment that monitors and controls wash water chemistry; and a full service partnership program which is focused on helping their partners achieve and maintain FSMA compliance.
"We wanted the site to follow the same theme as our products; easy to use and efficient." said Swarts. "Thanks to the improved layout, visual elements and content, the messaging of our interlocking system is clearly defined and carries through to the rest of the website."