Training Customers and Helping With FSMA Compliance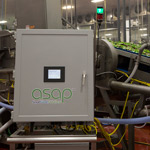 SmartWash Solutions™ is taking steps to ensure their customers are prepared to face Food Safety Modernization Act (FSMA) compliance challenges head-on. During the week of June 5, 2017, SmartWash partners were led through a comprehensive training that makes sure they are up to date on how to correctly and most effectively use the SmartWash Solutions system of products to enhance their food safety program.
With water identified by FSMA as one of the largest contributors to foodborne illness outbreaks, it is one of the most important control factors in food safety. The SmartWash training begins with the importance of wash water chemistry in any food safety program as well as the significance of SmartWash equipment and its proper use in fresh cut produce wash lines. While customers also receive training when they enter into a SmartWash partnership, this annual training, conducted in both English and Spanish, gives them a more in-depth view into the systems and how they work, allowing them to use real-world data and troubleshoot problems without worrying about compromising their own wash lines. In addition, the training gives customers an opportunity to learn about and troubleshoot new equipment or processes that have been added to the system, and to keep abreast of any regulatory changes and how those affect their existing process controls.
"Often, when companies purchase new systems or equipment, the emphasis is on getting it on the floor and making sure it works," said Angela Nunez, VP of Technical Support for SmartWash Solutions. "This training gives our customers the understanding behind why the products work so they can make decisions and adjustments in a way that will not be detrimental to their wash lines. When you empower people with more knowledge and understanding, they have a better foundation to make decisions."
SmartWash's training is unique in that it is focused directly on the needs of SmartWash Solutions customers, giving them comprehensive and in-depth knowledge of their wash lines. With a SmartWash Solutions partnership, customers are more prepared to meet and exceed FSMA preventive controls and bring their food safety to the highest level in the industry.
"When it comes to FSMA, there are crucial tools within the SmartWash system that enable our customers to meet FSMA requirements more easily," said Engineering Project Manager, Christopher McGinnis. "And we are constantly updating and improving our packages and training to make sure our partners are always a step ahead."